Andy Heyward
Chairman & Chief Executive Officer
Emmy Award-winning Andy Heyward has made more episodes of kid's television than any other producer. After graduating from UCLA with a Bachelor of Arts degree in Philosophy in 1975, he joined Hanna-Barbera as a writer and story editor. During his five years with Hanna-Barbera, he was involved in the development and writing of numerous series including Scooby Doo, Flintstones, Jetsons, Smurfs, Yogi Bear and Scooby's All Star Laff-A-Lympics. In 1980 he moved to France where he joined DIC Audiovisual, a production company specializing in children's animated programming. In 1982, he co-created Inspector Gadget and during the following years he has produced over 5,000 episodes of award-winning children's programs, most of which shows and brands are household names, including Inspector Gadget, The Real Ghostbusters, Alvin and the Chipmunks, G.I. Joe, Hello Kitty, Sonic the Hedgehog, Super Mario Bros, Sabrina the Teenage Witch, Strawberry Shortcake, Care Bears, Captain Planet, Teddy Ruxpin, Sailor Moon, Madeline, Where on Earth is Carmen Sandiego, Liberty's Kids, and dozens more. In 1994, he convened the National PTA, National Education Association, UCLA and producers from throughout the industry to draft the first voluntary set of program guidelines for children's television. In 1996, he hosted the first meeting between then FCC Chairman Reed Hundt and children's television producers.
Today under Kartoon Studios, Heyward produces and licenses brands ranging from Stan Lee Universe, to Baby Genius, to Warren Buffett's Secret Millionaires Club, to Thomas Edison's Secret Lab, to SpacePop for the global market. He has also been the largest producer of FCC mandated educational informational programming for children, and has produced hundreds of PSAs promoting child safety, health, exercise, and nutrition. In collaboration with Warren Buffett, he produces the short film which opens the annual Berkshire Hathaway Shareholders meeting, and he co-authored a book with Warren Buffett promoting financial literacy for kids. Heyward is also the author of Go Go Gadget – The Creation of Inspector Gadget.
Andy's notable work in children's programming has earned him multiple industry awards, and his charitable efforts off-screen have resulted in numerous recognitions. Some of his awards include two Emmys, nine Emmy nominations, two Humanitas Awards, two Cable Ace Awards, five Golden Reel Awards, three Environmental Media Awards, a New York Television Festival Award and a National Education Association Award, among others. He was inducted into the KidScreen Hall of Fame, and won the Studio of the Year at Italy's Cartoons on the Bay International Festival of Television Animation in 2006 (co-awarded to Roy Disney).
Heyward is a member of the Producers Guild of America, the National Academy of Television Arts and Sciences, the International Academy of Television Arts and Sciences, and the British Academy of Film and Television Arts (BAFTA). He was the 2010 UCLA College of Humanities Commencement speaker and is currently a Mentor in the UCLA mentoring program. He is active in many community activities, including serving on the Board of Directors of Cedars-Sinai Medical Center.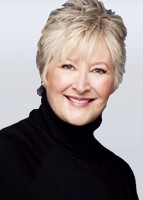 Margaret Loesch
Executive Chairman Kartoon Channel!
Throughout her formidable career, Margaret Loesch has held senior roles with numerous leading companies as both a creative and business executive. In 1990, she became the founding President and CEO of Fox Kids Networks Worldwide, growing the channels across all metrics, where it was eventually sold to the Walt Disney Company for $5.5 billion. During this time, she launched a multitude of hit series, including the billion-dollar brand Power Rangers, growing Fox Kids into the top children's program service on television.
Prior to Fox Kids, Loesch served as President & CEO of Marvel Productions. Previously, she was President of The Jim Henson Company, and the Founding President & CEO of the U.S. Hallmark Channel and Crown Media U.S. Most recently, Loesch served as President of the HUB, which was a joint venture between Hasbro Toys and Discovery Communications, where she had oversight of all business and creative areas of the network. In addition to Power Rangers, her resume includes launching some of the most successful animated children's properties in the world, such as Batman, Spider-Man, Steven Spielberg's Animaniacs, Transformers, My Little Pony, X-Men, Muppet Babies, and Fraggle Rock.
David Neuman
Chief Creative Officer
David Neuman's 30-year career spans television, film, and digital media, where among other executive roles, he was President of Walt Disney Television and Touchstone Television where he oversaw hits such as The Wonderful World of Disney, Boy Meets World, Ellen, and the then #1 sitcom on television, Home Improvement. As VP of Comedy at NBC, Neuman oversaw iconic series, such as Cheers, Family Ties, Golden Girls, and Alf, where during his tenure, NBC series received over 100 Emmy Awards. He has also served as Chief Programming Officer for CNN, a TV and film producer at 20th Century Fox, and founding exec/head of content at three landmark startups: Channel One, Digital Entertainment Network, and Current TV. Along the way, Neuman was instrumental in launching the careers of Anderson Cooper, Lisa Ling, and Jason Silva, among many others.
Michael Jaffa
Chief Operating Officer
Michael Jaffa served as Head of Business Affairs at DreamWorks Animation Television and was responsible for all studio business and legal affairs matters, including the negotiation and drafting of hundreds of development, production, acquisition, talent, digital and music agreements. Previously, he was the Vice President of Legal & Business Affairs for Hasbro Studios, working directly with Hasbro Studios' President, CFO, and General Manager to help create programs and launch strategy for a new studio and related network. Michael has also represented various clients, including Sony Pictures Animation and MGM Studios. Michael received a J.D. from New York University School of Law.
Brian Parisi
Chief Financial Officer
Mr. Parisi brings 30 years of experience spanning the entertainment, media, and high-tech industries, including finance, accounting, M&A, capital raising, and corporate development. Prior to joining Kartoon Studios, he served as the Chief Financial Officer at Break the Floor Productions in Hollywood, California, an entertainment production company where his responsibilities included overseeing the evaluation and analysis of mergers and acquisitions, risk management, and the creation of policies to reduce the company's overall risk exposure. Prior to that, Mr. Parisi was the Chief Financial Officer at the NFL Hall of Fame Village, where he was responsible for a range of financial activities including managing construction accounting budgets, financial reporting, cash management, and tax compliance for the nearly $1 billion investment in a newly designed complex in Canton, Ohio. In addition, he served as Senior Vice President of the Festivals Division of Live Nation Entertainment Inc. where he was responsible for developing strategic plans for Electronic Dance Music festivals in multiple countries with more than 1.3 million fans. Mr. Parisi has also held leadership positions at Warner Bros. Entertainment and Universal Studios.
Mr. Parisi is a CPA and holds a B.S. in Accounting from Purdue University, Daniel School of Business, and an M.B.A in Strategic Management from the University of Southern California, Marshall School of Business.
Robert Denton
Executive Vice President, Finance & Accounting
Robert Denton has spent the past six years in the role of CFO/Controller for Atlys Inc., a next-gen media technology company. His entertainment experience includes assisting with the restructuring of corporate financing for Gold Circle Films, a theatrical motion picture production and distribution company, as its interim chief financial officer; five years as CFO of DIC Entertainment Corp., the global brand management, production and distribution company specializing in family entertainment with annual sales of $85 million. Other previously held executive positions include Chief Operating Officer at Artisan Home Entertainment; Vice President of Finance for LIVE Home Video and VP, Chief Accounting Officer of LIVE Entertainment. He got his professional start with Ernst & Young's Century City office most recently as a Senior Manager.
Denton, a graduate of California State University, Northridge, with a BS degree in Business Administration-Accounting, Denton is a Certified Public Accountant in the State of California as well as a member of the American Institute of Certified Public Accountants and the California Society of Certified Public Accountants.
Jon Ollwerther
Executive Vice President
Ollwerther joins Kartoon Studios from Measure, the nation's leading Drone as a Service® company. As Vice President of Media, Ollwerther grew the Arts & Entertainment division from its inception and worked with leading media companies and advertisers like ABC, CBS, ESPN, Red Bull Media House, Coach, Prada, Maker's Mark, and Nissan.
As a trailblazer in an emerging industry, Ollwerther focused on leveraging drones as a tool for artistic expression and informational use, including major franchise films to live concerts and events. Among other accomplishments, he pioneered live broadcasting via drone for news and sports and spearheaded the first live drone network broadcasts in America, and helped bring drone light shows to life. Working with clients across the country and around the world, Ollwerther has an extensive credit list of collaborations with brands and advertising agencies to create unforgettable experiences. Prior to joining Measure, Ollwerther was the COO of an aerial robotics company based in NYC.
Lloyd Mintz
Senior Vice President, Head of Worldwide Consumer Products
Lloyd Mintz is a seasoned industry executive with more than 20 years of experience in licensing, merchandising and new business development and is widely respected for his expertise in leveraging brand equity through licensing. He works with retailers and licensees to build comprehensive global consumer products' programs for each of the company's brands. Prior to Kartoon Studios, Lloyd managed his own consultancy during which time he negotiated more than 150 licensing agreements and generated over $700MM in cumulative retail sales on behalf of clients across a range of brand owners and manufacturers. Most recently, he worked as Executive Vice President of Licensing for NYC-based Galaxy Brands that owned the AND1 and AVIA athletic brands. Previously, Lloyd worked at Hasbro, Inc. as the Vice President of Domestic Corporate Licensing where he pioneered the effort to license Hasbro's classic game brands, such as Monopoly, to slot machine manufacturers. He began his licensing industry career at Disney Consumer Products where he oversaw Disney's largest licensee, Mattel, Inc., and their development of toy programs for classic properties such as Lion King, Winnie the Pooh, and Aladdin. Lloyd graduated from Wesleyan University and earned his M.B.A. from UCLA's Anderson School of Management.
Michael Hirsh
CEO of Mainframe Studios and Director
Since April 2022, Michael Hirsh has served as Chief Executive Officer of Mainframe Studios, a Canadian-related entity of the Company. Mr. Hirsh served as Chief Executive Officer of WOW! Unlimited Media Inc. ("Wow") from December 2016 until April 2022, when the Company acquired Wow. Prior to Wow, Mr. Hirsh founded and was CEO of Cookie Jar which he merged with DHX Media(now Wild Brain) where he served as Executive Chairman from 2012 to 2015. Mr. Hirsh was also a co-founder and CEO of Nelvana from 1971 to 2002 where he developed and produced numerous award-winning productions including, The Magic School Bus, Care Bears, Babar, Rupert, Beetlejuice, The Adventures of Tintin and created the first Star Wars animated series with George Lucas. Mr. Hirsh has won Daytime Emmy Awards, Gemini Awards, the Joe Shuster Award, and a Golden Reel Award.
Cindy Kelly
President of Beacon Media Group
Kelly joins Kartoon Studios with over 25 years of experience in executive sales and sponsorship roles at leading media companies, including extensive children's media sales at Cartoon Network. She also served as Broadcast Account Supervisor at Ogilvy & Mather Advertising in NYC, overseeing media strategy for blue chip accounts, including, Mattel Toys, Campbell's Soup and Paramount Pictures.
Todd Steinman
President of Toon Media Networks
Todd Steinman is an accomplished growth marketing executive who with extensive B2B and B2C experience. Prior to joining Kartoon Studios, Steinman most recently served as Vice President in the Direct to Consumer and International division at The Walt Disney Company, which included Disney+ during its launch. He helped create solutions to leverage the Walt Disney Company's portfolio of linear and digital brands, including DISNEY, HULU, ESPN, ABC, FREEFORM, FX, and Nat Geo, while setting strategy for ad sales and revenue teams. Prior to his role at The Walt Disney Company, Steinman co-founded the digital media agency, M80, and then led the NBC Universal media team for WPP after they acquired M80. He negotiated multi-million-dollar annual media deals with Google/YouTube, Amazon, Hulu, Disney, Twitter, Snapchat, Spotify, and others, while managing an annual budget north of $1 billion.
Paul Robinson
President of Kartoon Channel! Worldwide
Paul Robinson is an accomplished and seasoned media executive with significant experience developing media brands around the globe. Robinson previously served as Managing Director of Disney Channel Worldwide, where he was responsible for global programming and production strategy. He also founded the Toon Disney and Playhouse Disney television channels internationally. Before his tenure at The Walt Disney Company, Robinson was Head of Strategy for the BBC Newtork Radio, overseeing the strategy development for BBC Radios 1, 2, 3, 4, and 5 Live. Additionally, he has served as Managing Director of talkSPORT; Co-Founder and CEO of KidsCO, NBCUniversal's international children's channel; and Executive Vice President of Your Family Entertainment AG, in which Kartoon Studios recently acquired a controlling stake.